Bottom Pool
This is another old, natural pool that caters for 10 anglers. It is surrounded by mature and established trees and plants, and has a variety of reeds and lillies to fish against.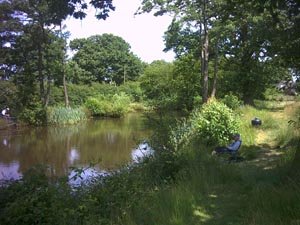 This is mainly stocked with Roach, Rudd, Perch, Tench, and small crucian carp. There are some larger wild carp plus some decent sized Roach/Bream hybrids. There is a good head of big Perch with some being around the 2lb mark, and the biggest weighing 3lb 1oz caught this year. Best baits are maggot, caster, worm and bread for the silvers and pellet, meat or corn for the larger fish. Depths vary from 1.5 ft to 8 ft. Both middle and bottom pools are ideal for both the new and experienced anglers.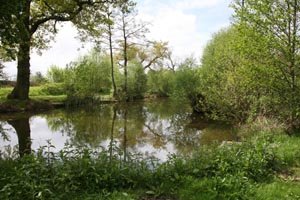 Again there are very few matches held on this pool. If targeting the Roach and Rudd, fishing up in the water and on the bottom with maggots and casters is the best option spraying maggots over the top. Either side of the sunken tree, pegs 6 and 7 are the most popular and is where many of the bigger fish tend to congregate.