Top Pool (Match Pool)
Current Match Record: 126lb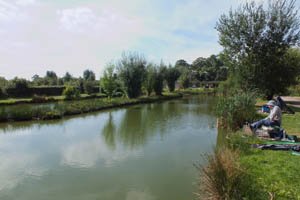 The top pool caters for 28 anglers. Since the top pool was restocked in Feb 2010, all the silver fish have been moved into bottom and middle pool, this pool is now a carp only water, with the exception of a few tench and perch. The carp range from 3lb to 16lb. Key baits now are pellet, paste ,corn and maggot in the colder months. A large number of the pegs from 15 – 28 are approachable via wheel chair access also, as all pegs are hard based platforms.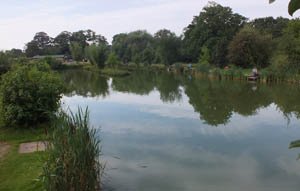 Depths vary between 3ft to 9ft. Hundred pound bags of fish are common in the summer months, and carp can be caught under your feet later on in the day. In the winter time 50 pound plus is required to win a match. In the colder months worth a small bomb in the deeper water is a very good method and will catch a lot of fish. This pool is ideal for pole anglers, as the main island can be reached with 13 metres of pole. The Island runs ¾ length of pool, with the bottom few pegs having deeper, open water. These pegs have a range of underwater ledges, shelves and plateaus which the Carp love to feed around.
Strong tackle is essential to land the carp as they fight very hard. 6-7lb main line, size 14-16 elastics and size 14-18 hooks will cope with most of the fish. Hot pegs include 1 and 28 in the shallows and pegs 8, 12, 14, 15, 18, 20.